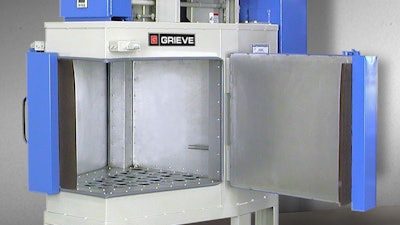 Grieve
The No. 994 from Grieve (Round Lake, IL) is a 500°F (260°C) special cabinet oven currently used for heating the end of long parts at a customer's facility. Features include:
Workspace dimensions that include a tapered 10" at front and 20" at rear wide x 20" deep x 21" high.
9 KW installed in Nichrome wire heating elements.
A 600 CFM, ½-HP recirculating blower that provides vertical upward airflow to the workload.
4" insulated walls.
An aluminized steel interior and exterior.
Safety equipment for handling flammable solvents, including explosion venting door hardware.
All applicable NEMA 12 electrical standards.
A tower light to indicate machine status.
For more information, visit www.grievecorp.com; or call 847-546-8225.