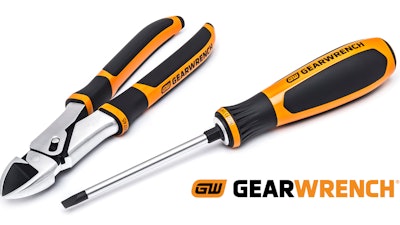 GEARWRENCH®, a leading hand tool brand from Apex Tool Group, recently unveiled a new logo and brand identity. The rollout encompasses every aspect of the GEARWRENCH brand, including its logo, tagline, color palette, typography and product design.
"The GEARWRENCH brand has grown remarkably over the past 20 years," said Ray Smith, VP Marketing, North American Hand Tools. "We've undertaken this comprehensive new brand identity program to reflect that progress. This new visual identity will help communicate the high quality of our products, our customer-focused culture and our commitment to innovation."
The new GEARWRENCH® logo was designed to reflect the power and personality of the brand. The logo it replaces has represented the brand since it first appeared in 1996 when GEARWRENCH introduced the first professional-grade ratcheting combination wrench. Its high-strength forged construction, fine-tooth ratchet mechanism, and compact head design provided improved access in confined workspaces.
The new FORGE AHEAD tagline connotes the strength and power of the forging process. "GEARWRENCH has had a reputation for innovation since the beginning," added Smith. "The new FORGE AHEAD tagline will resonate with users in every market we serve, whether it's automotive, industrial, commercial, or one of the many other places where you'll find GEARWRENCH tools at work."
In addition to the new logo and tagline, the all-encompassing brand identity program will include new product design, social media graphics, advertising, packaging, catalogs and brochures, trade show displays, vehicle signage, business forms, and much more. Since its introduction, the GEARWRENCH brand has grown to include not only wrenches, but a wide assortment of automotive and industrial hand tools. By the end of 2017, there will be over 4,100 different GEARWRENCH products.