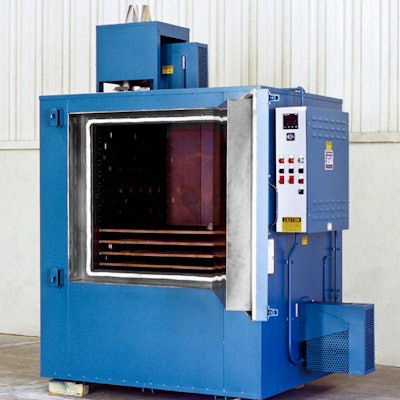 Grieve (Round Lake, IL) offers their 887 gas-fired, 1,000-degree Fahrenheit cabinet oven for curing metal coatings onto parts. Features include:
Dimensions of 38" wide x 38" deep x 38" high.
175,000 BTU/HR installed in a modulating natural gas burner.
A 2,000 CFM, 2-HP stainless steel recirculating blower furnishes a horizontal airflow across the workload.
An aluminized steel exterior, Type 304, 2B finish stainless steel interior, plus inner and outer door gaskets which seal against the door plug and the front face of the oven.
8" thick insulated oven walls, consisting of 2" of 1,900-degree Fahrenheit block and 6" of 10 lb./cf. density rockwool insulation.
www.grievecorp.com; sales@grievecorp.com