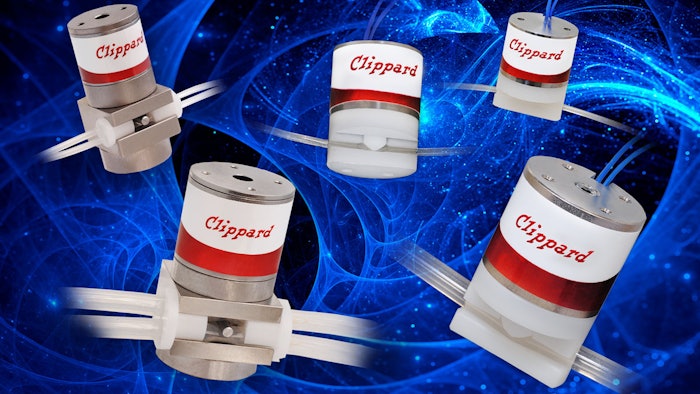 Clippard
Clippard's (Cincinnati, OH) NPV Series Miniature Pinch Valves are solenoid-operated devices designed to open and close tubes for controlling flow of liquids and gases. Pinch valves have no areas or dead volume where fluid can become trapped. Only the inside of the tubing contacts the fluid. Additional features include:
Energizing the solenoid retracts or attracts the plunger, which opens or closes the tube.
De-energizing the solenoid will allow the plunger to return to its original state.
Applicability in drug dispensing, laboratory equipment, waste water, medical devices, chemical, food and beverage equipment, ceramic/glass/plastic, and bulk and solids handling.
4 sizes with multiple pressure range options to 30 psig.
A hygienic and easy to clean (replace tubes) design.
Low power consumption.
High cycle life.
Unobstructed flow path.
For more information, visit www.clippard.com./link/npv-tds; or call 513-521-4261.