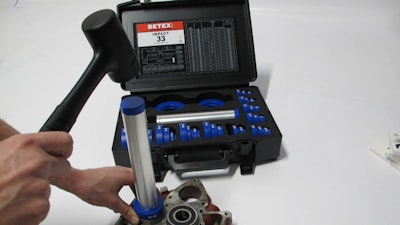 Bega Special Tools
The BETEX Impact 33 from Bega Special Tools (Bethpage, NY) is a fitting toolset specially designed for quick, accurate, and safe mounting of bearings with a bore varying from 10 to 50 mm. Features include:
The ability to mount bearings, bushings, and sealing rings.
33 rings.
3 aluminum impact sleeves.
A dead-blow hammer.
A carrying case.
Suitable for O.D. from 26 to 110 mm.
A weight of 4.8 kg.
For more information, visit www.begaspecialtools.com.