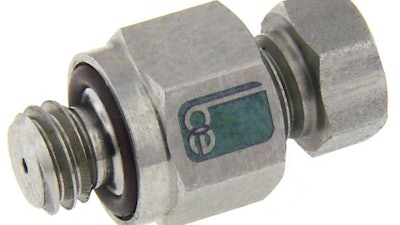 Beswick
The Beswick (Greenland, NH) MCB-32-303 compression fitting is designed to fit 1/32-inch OD metal or hard plastic tubing. The fitting will provide a leak-tight seal to the tubing as well as the mating component. Additional features include:
A two-piece ferrule.
A 10-32 UNF thread.
A front ferrule that seals on the outside diameter of the tubing.
A rear ferrule that provides an anti-rotation feature.
A compression nut that, when tightened, pushes the front ferrule into the tapered angle of the fitting body and compresses the ferrule onto the outside diameter of the tubing.
A Beswick captured o-ring face seal, which provides a leak-tight connection between the 10-32 UNF thread and the mating component.
Typical tubing choices of 1/32-inch OD stainless steel and PEEK tubing.
A corrosion resistant 303 stainless steel construction.
The ability to withstand working pressures of up to 3,000 psig (207 bar).
Applicable in analytical instruments, bomb and toxic gas detection equipment, medical and pharmaceutical devices, semiconductor manufacturing equipment, environmental sampling instruments and other high technology type products.
For more information, visit www.beswick.com; or call 603-433-1188.