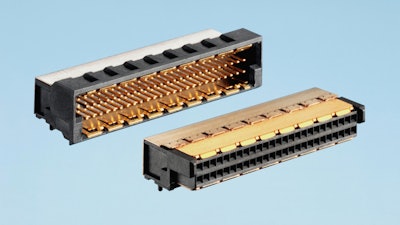 ERNI Electronics
ERNI (Richmond, VA) has expanded its connector product offering to meet the growing demands of industrial control networks and motion control/drive systems.
The miniature MicroSpeed SMT modular connector system features:
A 1mm (.040") pitch.

Support for high-speed data applications up to 25 Gbps.

Signal integrity.

Suitable for existing and next generation communication protocols.

Board-to-board stack heights between 5 and 20 mm.

A 1.5mm contact wipe length.

Low inductance shielding effectiveness enables noise sensitive designs to be realized without adding shields within the enclosure.

A flexible open pinfield design

.
The SMC line features:
A number of different pincounts, heights and configurations in a 1.27mm grid.

Secure data transmission rates up to 3Gbps.

Current carrying capacity of 1.7A per contact.

A dual-beam mating interface and long contact wipe length for reliability.
The MicroCon 0.8mm pitch product family features:
A two-sided female contact (dual beam) in a dense 0.8mm [.031"] pitch offering.

Vertical solutions for board-to-board stacking and new extensions for perpendicular applications (midplane/backplane).
For more information, visit http://www.erni.com/maerkte/automation/sps-dcs-und-remote-io/; or call 804-228-4100.