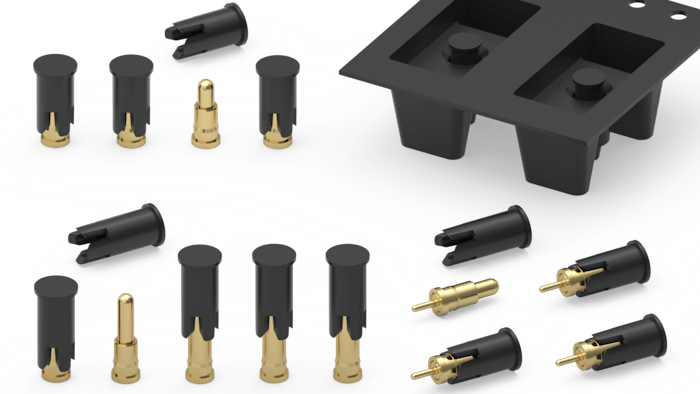 Mill-Max
Mill-Max (Oyster Bay, NY) has announced a new option for automated assembly of spring-loaded pins with the introduction of removable pick & place caps. The new 806 series features standard spring pins with removable caps that keep parts centered in the carrier tape pocket, present a large round target surface for vacuum pick up, and are easily removed after the soldering process. Additional features of the 806-22-001-30-0XX191 series include:
Applicability when production volume necessitates automatic assembly yet an insulator is not required or feasible.
Removable caps that attach to the body of the spring pin, slipping over without compressing or damaging the plunger. 
A four-finger design that makes the cap easy to remove. 
A closed flat top that ensures reliable vacuum pick up every time.
Availability in 9 surface mount options using standard Mill-Max spring pins 0900-X and 0907-X. 
4 through-hole style spring pins. 
Parts packaged per EIA-481 standards on 13" reels with the surface mount style on 16 mm wide tape and through-hole on 24 mm wide.
Removable caps made of high temperature nylon 46 that are suitable for most soldering processes.
Precision-machined external components and high reliability internal springs. 
Gold-plated components and springs that ensure conductivity, corrosion resistance and durability.
Spring-loaded pins with a current rating of 2 A continuous use (3 A max).
For more information, visit: www.mill-max.com; or call 516-922-6000.