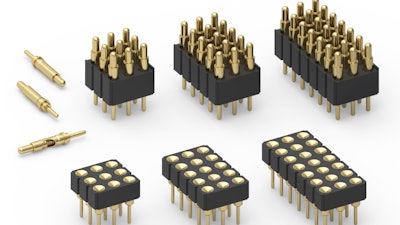 Mill-Max
Mill-Max (Oyster Bay, NY) has expanded its triple row connector series to include long stroke, through-hole mount spring-loaded pins (804 Series) and mating target connectors (805 Series). The connectors are on a .100" (2.54 mm) grid and available in 9 – 96 position configurations. Additional features include:
The flexibility of a single connector solution in place of using separate single and double row connectors. 
More consistent pin to pin spacing and improved perpendicularity across the field of pins. 
The 804 series spring-loaded header pins features:
.045" (1.14 mm) of stroke at working travel and .090" (2.29 mm) max stroke. 
A current rating of 2 amps continuous, 3 amps peak per contact.
Precision-machined piston/base.
Gold-plated components — a 1,000,000 cycle durability. 
A design for manual placement into Ø .030±.003" (.76 mm ± .0762 mm) plated through-holes in the circuit board, prior to soldering.
The 805 series target connectors feature:
A gold-plated conductive mating surface for spring-loaded connectors.
A design for through hole solder mounting in a .025±.003" (.63 mm ± .0762 mm) hole.
A concave face for making contact with .042" (1.07 mm) dia. spring pin plungers.
Both the 804 and 805 series high temperature thermoplastic insulators are suitable for wave and reflow soldering processes.
For more information, please visit www.mill-max.com/PR672.