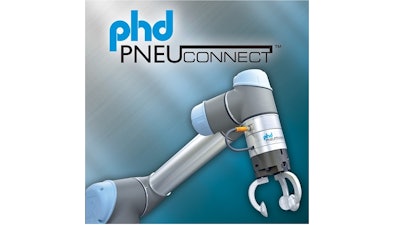 PHD (Fort Wayne, IN) has released a new accessory for seamless integration of pneumatic grippers on collaborative robots. The PHD Pneu-Connect connects directly to the tool port on the robot arm, making it easy to attach a PHD pneumatic gripper to a Universal Robot (UR) brand cobot. Benefits include:
A built-in pneumatic directional control valve for opening and closing the gripper.
A connector that plugs directly into the UR robot tool port.
A "CAP," which is an application specific to the UR collaborative robot. The "CAP" runs inside of the UR control software and provides a graphical interface making the pneumatic gripper easy to use and integrate with the cobot.
Be sure to weigh all the factors involved when selecting an end effector for a collaborative robot. Part weight, speed, required accuracy and variance in part size and shape are all factors to consider. When the part size and shape have only small variances and there is a need for placement accuracy, a pneumatic gripper may be the most economical choice.
www.phdinc.com; 800-624-8511