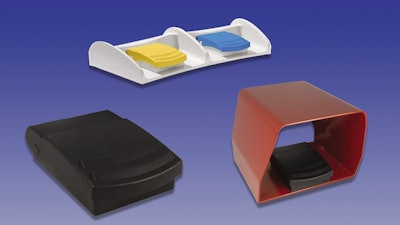 Altech
FM Series foot switches from Altech (Flemington, NJ) offer solutions for light- or medium-duty applications where hands-free operation is routinely required to start and stop equipment. Features include:
A variety of pedal colors (with or without imprinting) with up to six pedals per foot switch meeting typical contact and switch insert configurations.
Two levels of ingress protection (IP 43 and IP 65).
Available with momentary, maintained, or two-stage momentary activation modes.
An electrical rating of 5A/125-250 V AC.
Circuits that are SPDT-SB, DPDT-SB, and 2x SPDT-SB.
UL/CSA-approved snap action switches and cable strain relief.
An operating temperature range from -20° to 80°C (-4° to 176°F).
Optional IP 68 protection and gold-plated contacts for low-current applications.
For more information, call 908-806-9400; or visit www.altechcorp.com.