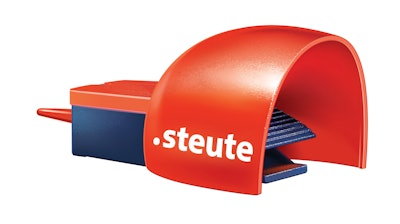 Steute Industrial Controls (Ridgefield, CT) has introduced industrial-grade wireless foot switches featuring an internal energy generator. No battery is required; actuation of the foot pedal generates power to send a unique, coded telegram to a compatible receiver. If, within 15ms, the foot switch does not receive a confirmation signal from the receiver, it transmits a second telegram. Features include:
Availability for operation at 915 MHz (USA/ Canada/Australia) or 868 MHz (Europe).
A maximum nominal transmission range of 50 m indoors, 700 m "free air."
A robust metal protection shield.
Bidirectional communications with receiver confirming reciept of transmitted signal.

Foot switch contact format configurable, depending upon receiver model selected.

Ingress protection rating:

IP67.
Mechanical life expectancy:

 

> 1 million actuations.

An operating temperature range of -20 to 65 degrees C.
Certifications: FCC, IC (for SW915 MHz models), EC (for 868 MHz models).
www.SteuteWireless.com; 203-244-6304