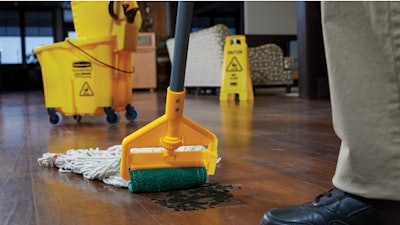 Rubbermaid Commercial Products (RCP; Huntersville, NC) has announced the launch of the new Scrubbing Wet Mop, featuring an integrated scrubbing headband that removes stuck-on messes faster without interrupting the mopping process. According to Rubbermaid, traditional wet mops are reliable cleaning tools, but picking up stuck-on debris often requires a separate tool and interrupts the cleaning routine, which impacts worker productivity. The Scrubbing Wet Mop's integrated scrubbing headband allows the user to have 2 tools in 1, and removes stuck-on debris 2x faster than a traditional RCP wet mop. Features include:
A universally designed headband that is compatible with side-loading Invader and clamp-style Gripper handles.
A double-sided and securely sewn-in construction, lasting the lifetime of the mop.
Effective scrubbing without scratching on a variety of floor types, including laminate, linoleum, vinyl, and light and dark hardwood.
Availability in launderable and non-launderable mops in a variety of sizes and colors.
www.rubbermaidcommercial.com; 800-347-9800