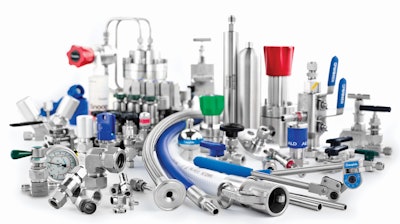 Swagelok
When replacing a single fluid system component in your plant, the cost of that component extends far beyond its price tag. The actual cost includes your internal costs for procurement, installation, and maintenance – not to mention costs associated with lost productivity during downtime.
The solution to keeping costs down is to obtain the longest life possible from your components – as long as you don't compromise safety in the process. Let's review several strategies that can help you not only maximize the life span of your fluid system components, but also reduce costs and improve plant safety.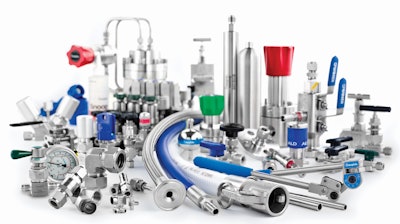 Address Your System Design
The design of a fluid system can affect not only component life, but the life of the system as well. Following sound design practices can help you mitigate a variety of stressors on a component, including pressure and temperature fluctuations, water hammer, vibration, and contamination.
Limiting such variables can help you realize long-term system performance. However, if you are changing a system design, remember to check the new operating parameters. For example, if you have mitigated temperature and pressure fluctuations, make sure associated components are rated for the new operating conditions. Even a seemingly small process change deserves attention. As an example, the additional heat exposure from increasing the frequency of hose steam cleaning may decrease the life of that hose from five years to one.
Plan for All Operating Conditions
Consider the entire application when selecting fluid system components. That way you'll be less likely to encounter a surprise leak or failure due to incompatibility with process conditions.
When selecting components, remember to consider the system's:
Normal operating temperatures and pressures
Maximum operating temperatures and pressures
Ambient temperatures and conditions, including external exposure
Process fluid and external media exposure
Vibration potential
Corrosion potential
Use of tubing and other supports
Cleaning protocols
Incompatibility with internal process fluids and external conditions are commonly overlooked culprits of premature component failure. All materials in contact with the process fluid, including O-rings and packing, need to be compatible to maintain their leak-tight integrity. In addition, corrosive external conditions like high-chloride (saltwater) environments may warrant special material choices, such as jacketed tubing, special clamping, or tubing support options.
Ensure Proper Component Installation Through Training
Installation missteps can unfortunately undo even the best fluid system designs by causing premature component failure. Consider incorrectly bent tubing, which can experience side-load stresses that may lead to cracks and leaks. Under tightened fittings may lead to leaks, as well as pose a safety concern. Unsupported tubing may be prone to cracking and leaking if exposed to vibration.
Your best insurance to avoid such situations is training your staff on proper fluid system component installation. Even your seasoned installers can benefit from a refresher, as small details – such as remembering to use a gap gauge to check fitting tightness – can make a big difference in the long-term performance and safety of a component. When training your staff, look for courses with hands-on instruction so personnel can get the feel for properly tightening a fitting, for example. Such training can help reinforce proper installation techniques to mitigate leaks and enhance safety.
Conduct Preventive Maintenance
Sometimes all a component needs is a little TLC to realize its lifecycle potential. Performing regular inspections and maintenance to extend the life of regulators, valves, and hoses can often be done at a low cost – with a huge payoff in reduced costs and enhanced efficiencies. One way to keep costs down is to specify valves that swing open in line (Figure 1) to enable an easy and simple packing replacement.
In some cases, you may be replacing components too often. Keeping records of your preventive maintenance program will help you analyze trends and understand your replacement frequency. You might find that using a different component in place of one that fails frequently will decrease your replacement frequency and reduce the system's total cost of ownership. Ideally, your trend analyses will help you develop custom maintenance plans that promote component longevity.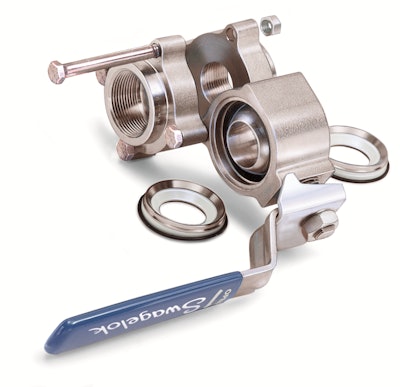 Store Parts Properly
Keeping a replacement inventory of specific system-critical components on hand is a necessity to reduce system downtime and its associated costs. However, spare components must be stored properly to avoid damage that could shorten their life. Hoses are a great example. They should never be stacked. Instead, hang them to ensure they are not bending more than the manufacturer's published bend radius. In addition, protect them from ultraviolet (UV) light, as some hose materials degrade from UV exposure. Finally, cap both ends of stored hoses to prevent contamination of their interiors.
Advice for storing other fluid system components includes not mixing spare parts from different manufacturers in the same bucket or box, as the parts are not interchangeable and may lead to leaks, corrosion, or product failure if intermixed. To avoid such scenarios, separate and store spare parts like ferrules, O-rings, and valve packings by manufacturer, clearly marking each part to match it to its corresponding component.
Learn from your Replacements
Replacing fluid system components is a necessary part of running a plant, but you may be able to prolong component life by reviewing your practices related to system design, component selection, installation, maintenance, and storage.
Components fail for a reason and evaluating the cause of failure may uncover a need for using a different part or manufacturer. If you're replacing a worn out or damaged component before its expected replacement interval, check the relevant system variables to see if there's a root cause for the failure. If that cause is due to pressure, temperature, or material incompatibilities, you may be able to select an alternative part that meets the process requirements. If it was from a system-related issue such as vibration, contamination, or water hammer, you can adjust the system to increase the component life – and your bottom line.
ABOUT THE AUTHOR
Cory Cottrill is product manager, field services at Swagelok. He is a frequent contributor to the Swagelok Reference Point blog, where this article originally appeared: www.swagelok.com/en/blog/maximizing-life-industrial-fluid-system-components.