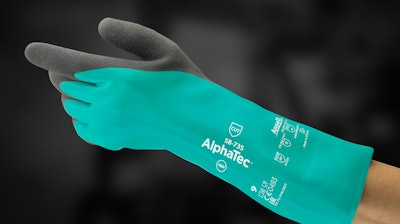 Ansell (Iselin, NJ) announces the launch of AlphaTec 58-735, a new innovative multi-hazard nitrile glove solution offering a combination of both chemical and cut protection, as well as providing exceptional comfort and grip. It has been developed for use in a broad range of industries including chemical, food, life sciences, oil and gas and machinery manufacturing environments where high chemical and high cut protection are demanded. The green outer nitrile shell has excellent chemical resistance to a wide range of chemicals including acids, alkalis and organic solvents. As a soft, comfortable hand protection solution that effectively resists chemicals and cuts, workers across a wide range of industries are more likely to wear the glove, ensuring greater levels of compliance. Additional benefits include:
A HI-VIZ INTERCEPT yarn used on the inside of the glove, providing high performance cut protection coupled with exceptional comfort and dexterity.
If the outer shell of the glove is compromised due to mechanical action then the user has an indicator to be able to see that the chemical barrier is no longer there and should replace the glove.
A 'Type A' chemical protection under new EN ISO 374:2016, cut level 'ISO C' according to EN 388:2016 or ANSI cut A3. It is also tested to cut level 4 according to EN 388:2003.
The unique ANSELL GRIP Technology has been added to the palms and fingers. This technology allows for less force and optimal control and confidence when gripping in wet or oily environments, further reducing hand fatigue and enhancing worker comfort.
Completing the multi-hazard protection offering of AlphaTec 58-735, this glove is also tested to EN 1149 for antistatic and EN ISO 374-5 for viral risks.
www.ansell.com/feelequipped; 800-800-0444