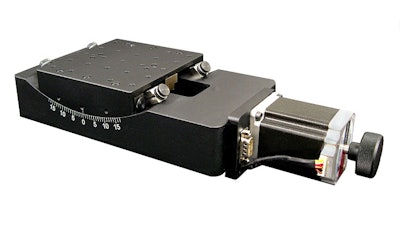 Optimal Engineering Systems
Optimal Engineering Systems (OES) (Van Nuys, CA) has announced the AK130-15 Goniometer Stage, a low-profile stage suitable for microscopy, crystallography, measurement of surgical cutting blades, laser positioning, light measurement, and inspection applications.
A 60 mm high stage with a center of rotation height of 120 mm.

A 120 mm x 130 mm table with ±15° of rotation at speeds up to 10°/sec.

A precision ground worm gear with a 304:1 ratio and a resolution of 0.0005° with a 10 micro-step per step stepper motor driver.

Availability with a servo motor and optical encoder.

Repeatability of ±3 arcsec.

Accuracy of ±8 arcsec.

Backlash of ±3 arcsec.

A 329 mm x 130 mm footprint – with standard 1.8° stepper motor.

The ability to handle loads to 15 Kg.

A calibrated indicator that displays the angle of rotation.

A hand knob for manual adjustment.
For more information, visit www.oesincorp; or call 888-777-1826.