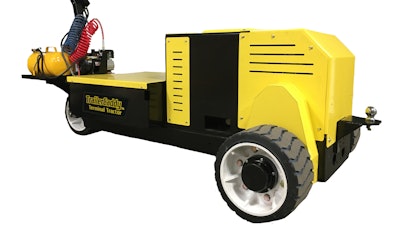 DJ Products
DJ Products (Little Falls, MN) now offers the battery-powered TrailerCaddy Terminal Tractor, a safe, efficient, cost-effective and eco-friendly alternative to yard dogs or shunt trucks.
The TrailerCaddy Terminal Tractor is designed for one person (no CDL or health card required) to relocate trailers at manufacturing centers, warehouses, tightly stacked lots, and in or out of dock doors.
Features include:
Precise speed control reduces risk of dock, trailer or equipment damage.

Variable speed twist grip allows for smooth operation and maneuverability in tight spaces.

Optional compressor to release brakes on trucks with air brakes.

A 48-V battery system for long run times.
For more information, visit https://www.djproducts.com/product/trailercaddy-the-electric-yard-truck/.