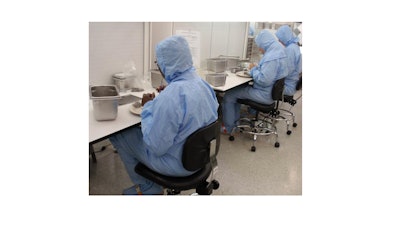 Pacamor Kubar Bearings (PKB; Troy, NY) offers Clean Room Services to help customers refurbish their ball bearing inventory. These services are perfect if ball bearings have been in the stock room for 3 years or longer; the lube is discolored or the packaging damaged; and/or stockroom temperature and humidity fluctuates. Clean room services include:
Wash & relube with the same lubricant.
Wash & change the lubricant to a different lubricant and/or lubrication process.
Options including grease, oil, grease plate, oil film, serialization and more.
Bearings repackaged in PKB Standard Clean Bags.
Bearings repackaged in specialty bags, to your specification.
Intimate bearing packaging in Class 6 Clean Room, with Class 5 Clean Benches, meeting ISO 14644-1.
Packaging options including Nitrogen back-fill, 1A8 bags, vial pack, pill pack and more.
Learn more about why maintaining proper bearing lubrication is so important.
www.pacamor.com; 518-283-8002