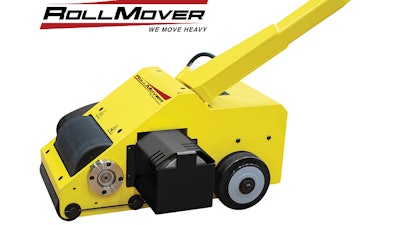 The Appleton (Neenah, WI) RollMover HD features a new, Smart Lithium Battery and a rugged, high visibility, steel ergonomic design. Powerful, versatile and highly maneuverable, it moves heavy roll-able loads safely and easily. The Appleton RollMover HD is designed to easily and quickly move paper rolls, wire reels, vehicle chassis and many other types of products in a variety of industries. If it's round, the Appleton RollMover HD can move it – safely, easily and efficiently. Features include:
• A rugged, high-visibility ergonomic design that increases worker safety and improves mobility and productivity.
• A Quick-Charge and easy-to-change high-performance 36V Long-life Lithium Iron Phosphate Battery.
• In-depth, on-board, analytics that offer data on battery charge, performance and maintenance cycles.
• Compact size and excellent maneuverability.
• Adjustable speed control.