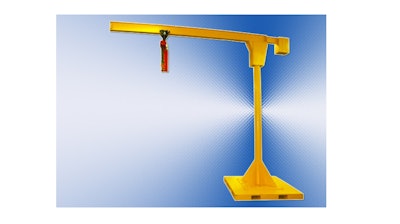 Air Technical Industries (ATI; Mentor, OH) offers a series of Portable Jib Cranes that are self-supportive and can be used indoors or outdoors without installation. The Portable Jib Crane has a counterweight built in to the base for stability and fork pockets for portability. When the job is done, the crane can be easily moved out of the way, since it is not bolted to the concrete floor, as it is in the case with traditional jib cranes. Features include:
A convertible design that can be detached from the base and mounted to the floor.
A 360° boom rotation, manually operated. An optional powered boom rotation is available.
The ability to be equipped with a manual hoist or electrical powered hoist, 110 volt single phase or 240-480 volts, 3 phase. For hazardous areas, air powered pneumatic spark proof hoists are available.
A heavy duty industrial welded steel construction for safe and long-lasting use. The rotation is on a heavy-duty Timken roller bearing and precision-built cam followers for smooth, effortless rotation.
Available capacities of 500, 1,000 or 2,000 lbs with a span length of 6 to 12 feet and an under-beam height of up to 24 ft.
The cranes feature 2 different counter balance designs, one is counterweight built into the enlarged base for stability and the other is mounted on the rotating beam so that counterweight is always on the opposite side of the payload. The specially designed counterweight base has 4-way fork pockets for easy accessibility from any side.
www.airtechnical.com; 888-857-6265