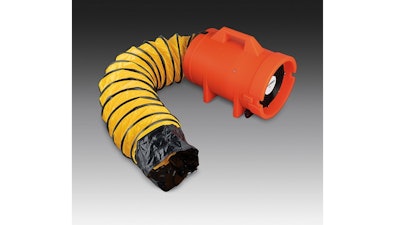 This high output blower from Allegro Industries (Piedmont, SC) features a compact design that stores ducting inside the plastic blower housing for an all-in-one easy transport unit. The super quiet, lightweight and portable design is now the lightest and shortest blower with ducting in the industry, says the company. This unique and versatile Allegro Mini-Pak design is available with your choice of 15' or 25' retractable, non-collapsible ducting. Specifically:
The single-ply PVC coated vinyl and polyester fabrication is temperature resistant up to 180°F (82.2°C).

A separate 12" duct (not included) can be attached to the intake side of the blower to draw air.

The 15' or 25' ducting stores conveniently within the canister and an integrated nylon attachment strap is included.

Additional design features include a carry handle molded into the safety orange blower and canister housing.
www.allegrosafety.com; 800-622-3530