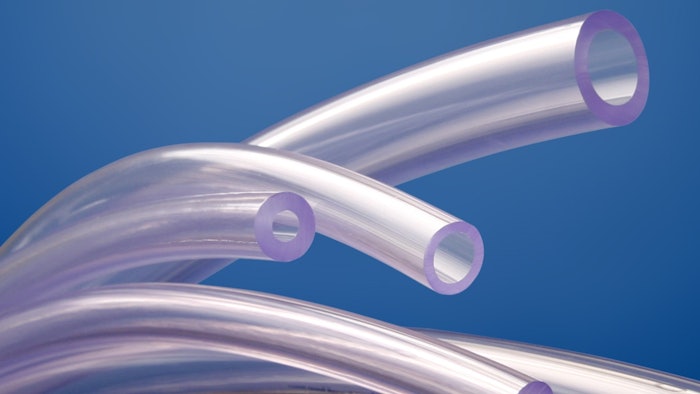 NewAge Industries (Southampton, PA) has announced that its Clearflo Ag-47 antimicrobial tubing is now available in an additional seven sizes, expanding its range up to 1" I.D. The NSF-listed tubing protects liquids from harmful bacteria that can result in taste transfer, odors and illnesses and is designed for applications such as beverage and dairy transfer, food processing, water lines, medical devices and clean fluid transfer. Features include:
The ability to guard against bacteria such as E. coli, listeria, salmonella, legionella, MRSA, campylobacter and pseudomonas.

Effectiveness in applications where there is infrequent use of fluids in warm or humid conditions and the tubing does not have an opportunity to dry thoroughly between uses. This is particularly important in applications where the tubing is submerged in fluid.
National Sanitation Foundation listed (NSF-51) for food equipment materials.

No phthalates, latex or animal-derived ingredients.
A formulation comprised of non-toxic ingredients conforming to FDA standards.
Transparency for visual flow contact.

Heat sealable.
REACH and RoHS compliant.
Clearflo Ag-47 offers a Shore A hardness value of 74 ±5 and withstands temperatures from -40°F to 125°F (-40°C to 52°C). It's well stocked in 17 sizes, ranging from 1/8" through 1" I.D. New sizes include 1/8", 5/8", 3/4" and 1" I.D. with various wall thicknesses.
www.newageindustries.com; 800-506-3924