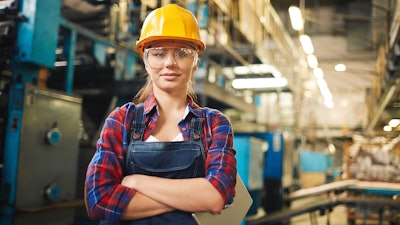 Fogging is the number one problem faced by safety eyewear users in manufacturing, and it's important to remember that not all AF-coated lenses deliver the same level of protection. Lenses fog due to temperature, humidity, worker exertion, transitions between warm and cool environments, and even washing. With each washing, most anti-fog properties erode.
Despite national and corporate safety programs, workers in manufacturing experienced the highest percentage of occupational eye injuries among industry sectors – more than 25 percent. Yet, most safety professionals agree: nearly all occupational eye injuries could be prevented through the proper use of the appropriate eyewear.
Perhaps the best defense against fogging is a high-performance anti-fog lens coating. Today's advanced lens coating technologies actively manipulate moisture through surface acting agents, i.e. chemicals designed to move to the lens surface as needed to prevent fogging.
Here are some key factors to consider when selecting safety eyewear with protective coatings:
The application of hydrophilic properties that absorb moisture into the lens.
Additionally, the use of hydrophobic properties that spread excess condensation in a clear film over the lens surface, and ultimately shed moisture off the lens.
The ability to apply dual-action anti-fog coating so it goes on - and stays on. Look for manufacturers that permanently bond anti-fog agents to the lens, so the coating stays on after repeated washings and wiping.
Look for manufacturers that rely on controlled application methods and employ vigorous ongoing product monitoring to ensure optimal, distortion-free optics are maintained and that consistent performance is delivered.
Products exceeding Europe's EN166 and EN168 safety eyewear standards should be considered as well, since their performance is measured and proven against the only global test method and certification for resistance to fogging of oculars.
Erica Osley develops and launches market-changing products and technologies for Honeywell Industrial Safety globally. She has more than 16 years of experience delivering advanced safety industry solutions.