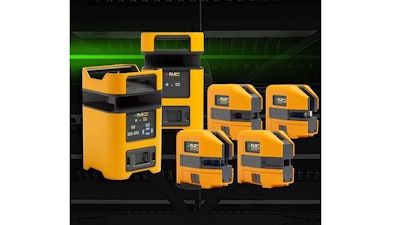 Pacific Laser Systems (PLS; Everett, WA), a Fluke company, introduces a new product platform — including 11 new point, line, and rotary laser levels — with improved durability, accuracy and performance. These new professional-grade tools are engineered to meet the demands of often harsh construction environments while easing interior and exterior layout work. The new lasers provide bright, crisp reference points and lines for quick and accurate layout, helping to complete projects on time. Included in the upgrades are:
Design and engineering changes to make the tool more dust and water resistant.
A build that's tough enough to withstand a one-meter drop test.
A new pendulum lock on the handheld tools that lets a worker protect this moving part during transport to avoid potential wear, thus increasing longevity.
Rather than launch small sets of tools over time, the platform change allows the product line to be upgraded all at once and enables laser level owners to take advantage of common accessories, such as the floor stand, wall mount, and the all-new UB9 Universal Ceiling/Wall Bracket. The platform also allows for the addition of new features to benefit customers in the future.
www.plslaser.com; 800-601-4500