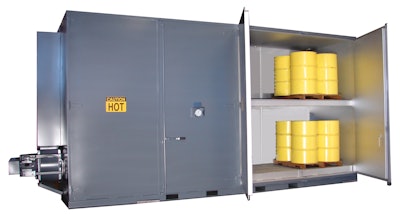 Benko Products, Inc. (Sheffield Village, OH) announces that its line of Sahara Class A ovens is suitable for safely heating volatile materials. Each oven features:
PID temperature control.

Independent overtemperature control.

Air circulation for precise temperature control and temperature uniformity.
A robust, all welded construction that ensures that the ovens can withstand the rigors of constant pallet loading/unloading and forklift abuse.
Please note, electrically heated ovens are not suitable for use in Class 1 designated areas. Steam, hot water and hot oil heated ovens can be made suitable for use in Class 1, Division 1 areas. Please contact a Benko Products Sales Engineer to recommend a safe heating method for your flammable drums and totes. Benko Products offers a complete line of Sahara Drum/Tote Ovens to heat from 1 to 32 drums or 1 to 8 totes.
www.benkoproducts.com; 440-934-2180