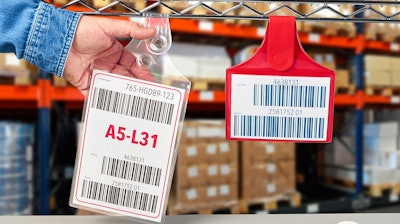 Vinylenvelope.com (Dighton, MA) introduces a line of hanging vinyl label holders, pockets and tag protectors that feature high-strength magnets to hang tough for a wide range of inventory management applications. Features include:
Heavy-duty 10-gauge clear PVC construction.
A reinforced strap which wraps around objects and has two encapsulated rare earth magnets that join firmly together to stay in place.
Availability off-the-shelf in standard sizes from 3" x 5" to 9" x 12". Custom sizes, configurations imprinting are also available.
Ideal for a wide range of assembly, inventory, and materials management applications, these clear vinyl pockets permit barcode scanning and the backs are clear or offered in colors for coding.