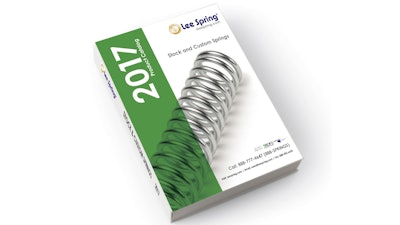 Lee Spring
Lee Spring (Brooklyn, NY) has released its expanded 2017 product line in conjunction with the release of the 2017 Lee Spring Catalog. Lee Spring has added more than 1,800 new products for 2017 and now offers more than 25,000 stock spring designs.
To support demand for DIN range products, the company has introduced the DIN-Plus Series, a range of compression springs built on the DIN2098 Part 1 and 2 specifications, but with added corrosion resistance.
The Lee Spring DIN-Plus Series has enhanced corrosion resistance, including passivation for the stainless steel range and zinc plating for the spring steel range.
The company continues to look for ways to offer better corrosion resistance in all spring ranges, including compression, extension and torsion type springs.
In 2017, Lee Spring added more Stainless Steel 316 springs, which are available off the shelf and ready to ship, therefore bypassing the need for custom spring design, quoting and manufacturing.
The 2017 Lee Spring Catalog is a resource for engineers and buyers for all types of springs. This year's catalog now contains more than 380 pages of parts, specifications and pricing.
To request a free 2017 Lee Spring Catalog, or for more information, visit https://www.leespring.com/; or call 888-777-4647.