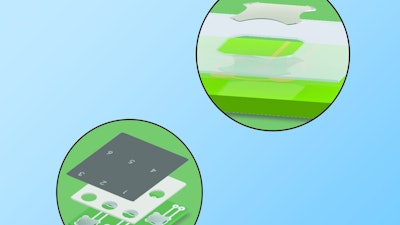 Keystone Electronics
Keystone Electronics has debuted a new line of snap action Key-Pad dome contacts specifically designed as a momentary contact for printed circuit boards, flex circuits, membrane switches and discrete switches. Features include:
A four-legged shape with enhanced durability, reliability and versatility.
A tactile feel for single or double-sided printed circuit boards, flex circuits, and membrane switch panels.
Availability in Mini (.331" Dia), Compact (.394" Dia) and Maxi (.480" Dia) styles with trip forces from 7.8 oz. to 14.8 oz.
A Nickel-plated stainless steel design.
Availability on tape and reel.
Suitability for use with most vacuum and mechanical pick-and-place assembly systems.
Availability in tubes for individual placement applications.
Optional, adhesive-backed spacer material for creating custom Key-Pad arrays.
For more information, visit www.keyelco.com; or call 800- 221-5510.