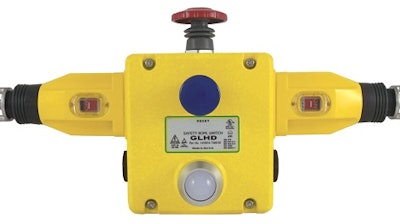 The OMEGA (Stamford, CT) GLHD Series of safety rope switches are designed to mount on machines and sections of conveyors that cannot be protected by guards. These stainless steel heavy-duty switches will protect long conveyor lengths up to 250 m (820'). OMEGA outlines the following benefits:
Unlike traditional mushroom head type emergency stop buttons, the GLHD Series of safety rope switches can initiate the emergency command from any point along the installed rope length and provide robust emergency stop, rope pull protection for exposed conveyors or machines.
All GLHD switches conform to ISO13850 and EN60947-5-5 and can survive indoor or outdoor use including washdown NEMA 6 (IP67) rating.

Applications include monitoring and control of machines and conveyors in all types of manufacturing and production areas for personnel and equipment protection in the following industries: Chemical, water, electronics, automotive, warehousing/shipping.
www.omega.com; 888-826-6342