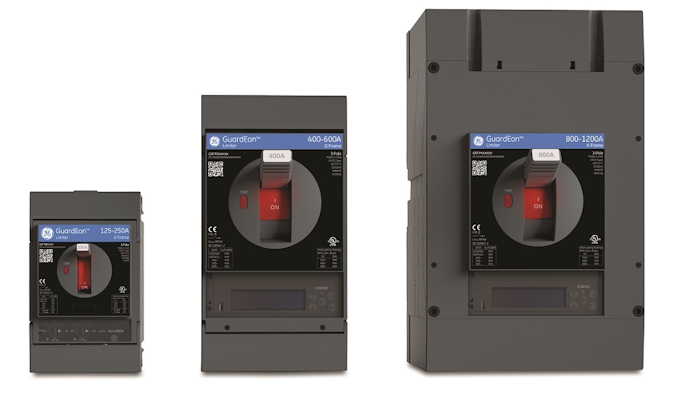 GE Industrial Solutions
GE's Industrial Solutions business (Dallas, TX) has introduced the GuardEon molded-case circuit breaker (MCCB), a global breaker platform built for the digital industrial era. Designed for tough, real-world applications, GuardEon features:
4 frame sizes featuring common components, interchangeable accessories, and flexible options for field customization.
EntelliGuard air circuit breakers.
A rotating faceplate.
An ergonomic rotary handle.
A streamlined design with fewer internal parts than previous MCCBs.
PremEon trip unit, which serves as its brain, is offered in a standard version, PremEon S, or advanced version, PremEon G.
PremEon G allows users to monitor the breaker's mechanical and electrical health.
The ability to collect and analyze performance data to help customers diagnose problems before they occur and make better-informed decisions about maintenance.
Remote monitoring and testing from a safer distance — outside the arc flash zone.
ArcWatch, which provides a system solution for simultaneous uptime and protection across connected equipment.
For more information, visit www.GEGuardEon.com.