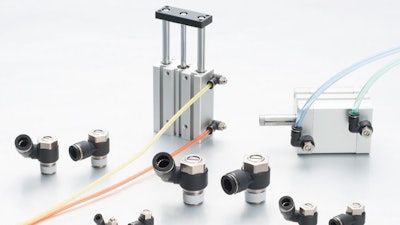 Pisco (Elmhurst, IL) has introduced the Type JSD Slot-Head Speed Controller, which reduces unwanted adjustments and ensures settings are maintained during operation. Based on the design of Pisco's Type JSC Speed Controller, the Type JSD does not include the external needle needed to make speed adjustments. Instead, to ensure consistent speeds, a separate screwdriver is required to make any adjustments. Features include:
A space-saving design, resulting from the absence of a built-in tool. The height of this new controller to approximately 2/3 the height of its conventional counterpart.
Availability in an Elbow type with a 360º rotatable x-axis resin body and a Free type with a 360º rotatable x- and y-axis resin body. Both operate with air as a medium and feature operating pressure ranges from 14.5 – 130 psi, check valve opening pressure of 7.25 psi and operating temperature ranges from 32 – 140ºF.

Ideal for use in packaging and factory automation applications.
www.pisco.com; 630-993-3500