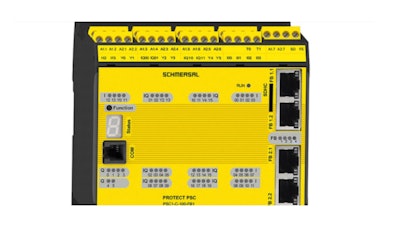 Schmersal Group (Hawthorne, NY) presents a new Industry 4.0-compliant solution at SPS IPC Drives 2018: the PROTECT PSC1 safety controller with integrated OPC UA server. The connection from the PSC1 to the industrial machine-to-machine communication protocol will allow extensive information from Schmersal products to be included in manufacturer-neutral data exchange. In addition, this solution allows Schmersal products to deliver maintenance information, meaning that components can be replaced before before they reach end-of-life or lose performance level. Benefits include the following:
A programmable, modular design.

The universal communications interface allows data exchange across different fieldbus systems.

It handles different fieldbus systems with just one hardware.

The integrated OPC UA server allows sensors to provide data in a machine-readable format.
www.schmersalusa.com; 888-496-5143