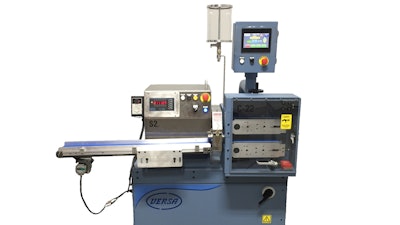 While the phrase "the journey is more important than the destination" is often used for motivational purposes, it holds true for material handling as well. Sure, extruding, cutting and processing are important, but just as important is how the parts get from point A to point B.
There are as many ways to approach downstream handling as there are industries that use extrusion and other processes in their production, each with its own unique benefits. From the full systems approach to using individual components for various tasks, to a happy medium in between, we'll look at three ways to handle downstream pulling equipment and profile a company that selected that approach, explaining why that process works best for them.
There's no use reinventing the wheel, especially when the wheel is faster, stronger and lasts longer than anything you could make. For Allen Meyer of Meyer Enterprises, that wheel was his Versa Non-Motorized puller assembly: he could fabricate a puller, but it wouldn't be at the quality or price point of the Versa assembly he currently uses. Or he could purchase a puller with the motor, drive, gear reducers and controls attached, only to strip them off and replace them with his proprietary components specified for this project – thus adding time, labor and cost to the project.
Dan Stewart and the team at Simonds Industries used to manually roll out bandsaw blade material, until he found his "wheel," in the form of a Versa Motorized pinch puller. With all the components needed for "out of the box" productivity, this puller was easy to purchase, and it shaved off precious production time while enhancing safety.
Kyle Jornov, plant manager at Blend-Pro, used a guillotine cutter that ended up smashing a rubber type joint sealer rather than cleanly cutting it. His Versa "wheel" was a combo cutter/puller system, which cleanly cuts the sticky and hard to handle sealing compound.
Versa Machinery makes industry-leading non-motorized pullers, motorized puller assemblies and turnkey puller systems to pull materials downstream. Whether used in a custom-built system or around other purchased components, Versa Puller Assemblies are built to out-perform and outlast, no matter what material is on the line.
One Part, Many Lines
Meyer Enterprises is a true job shop, handling machining and fabrication for turnkey parts from start to finish. Allen Meyer and his team can build pretty much anything with as little as a drawing, regardless of the industry or application.
When his shop was tasked with building a machine that turns PTFE tubing into medical grade heat shrink, he needed a puller assembly that could push and pull the tube through the equipment and take the tubing through the process. On a site visit to see how the PTFE tubing is made, they noted Versa puller systems pulling the material through the process, and later contacted them.
Meyer built a table 2½'x14' and purchased two Versa C-22 non-motorized puller assemblies to pull the material through the heating process, one on the incoming and one on the outgoing side.
The C-22 is a Caterpillar Feed, designed to provide an even distribution of clamping force over the surface of the product, enabling greater pulling forces without deformation of the product—a critical aspect for the medical grade quality plastic. Optional pneumatic operation of the belt booms along a constant centerline allows control of the pressure applied to the product being pulled and makes repeatable setup almost instantaneous. For Meyer that means control over the product as it runs through the process and repeatability, run after run.
"The thing is bulletproof—for what we use it for, it's overbuilt by far, it's something that will outlast the other equipment," Meyer said, adding that not having to think about the puller assemblies as a point of failure or necessary maintenance is a relief. Instead, it's set it and forget it.
Working with Versa was even easier to handle than the assemblies themselves. Representatives were always accessible to handle Meyer's needling questions, and even worked with Meyer to customize the assemblies to meet the proprietary needs of the heat shrink customer.
He appreciated the ability to purchase just the components he needed so that he could add the unique elements specified to complete the project. "They could have sold us the castings, belts and gears or sold us the whole line, but this was a much better way for us to do what we do," Meyer said.
And what Meyer Enterprises does is working: the shop is working on three more machines for the medical group with two more on the way. Despite the high demand, the Versa C-22s will continue to run day in and day out.
Cutting Down Production Time
For the past 5 years, Simonds Industries has used a Versa Motorized PM-22 Pinch Roll Puller to help manufacture bandsaw blades and cutting tools. The puller takes bandsaw blade material off a 300-foot coil, feeds that material out, and pays it off to a required length to cut and process.
Before Simonds purchased the PM-22, Dan Stewart explained that the team would pull the material hand over hand, walk it slowly out over one line. Unrolling bandsaw blade material by hand is inherently dangerous, so Stewart needed to get his operator's hands out of the equation. A modified device could sometimes pull smaller lengths out, but it never worked the way Stewart needed. He then purchased an off-the-shelf PM-22 motorized puller assembly, which included the motor, drive, gear reducers and controls needed to be productive from day one. While Stewart initially wasn't getting the speed hoped for, Versa team members worked with him to boost the speed to 350 ft/minute, making the Simonds bandsaw production safer and faster than before.
Versa Motorized Pullers are compact, powerful ways to move product down a production line. Pinch wheel units are ideal for applications like Simonds band saw line, where the material requires a minimal pulling force and is not sensitive to pinching pressure. With a D.C. motor and Operator Control Station, the Pinch Roll Puller can be mounted on a table or other platform to position it in line with the product while the operator controls it from a convenient location.
Relative to uncoiling bandsaw material by hand, the Motorized Pinch Puller saves time and labor for Stewart, who estimated that the whole process is 30% faster after installing the Versa equipment. Equally important is the safety aspect, as employees no longer unroll the bandsaw blade material by hand – an inherently dangerous proposition.
Sticking with Versa
Blend-Pro, in Allentown, PA manufactures construction products, including a rubber type joint sealer: a specialized, sticky compound that they extrude onto paper and cut into pieces to package and sell. For years they cut the material manually with a pair of ordinary scissors; the employee that drew the short straw that day would stand next to the extruder and make a cut every 30'.
Manual cutting was a drag on resources: there are any number of more productive things a skilled and trained employee could be doing rather than cutting. Plant Manager Kyle Jornov recalls a vendor that supplied them with an automated guillotine, basically a pair of scissors attached to a cylinder that shot every time an encoder reached the length. While it freed up the employee from cutting, it jammed constantly, requiring maintenance and increasing production down time. The sealer stuck to everything in sight, creating jams that smashed the sticky, glue-like compound as it came out of the extrusion die. The resulting product was uneven and unsightly.
Jornov reached out to Versa Machinery and asked if they could help. Versa designed a puller system with silicone belts on the infeed caterpillar puller as well as a 3' long post-cut take-away conveyor, which the sealer wouldn't stick to. An added roller encoder measures the speed of the material as it comes out of the extruder and adjusts the speed of the puller to match that of the extruder.
The special silicone belt prevents sticking, and with the puller and conveyor speeds matching the material speed, jams are a thing of the past. The Versa system creates clean, even cuts consistently.
The end result is better, but so is the process itself: the team in charge of extrusion can rely on the Versa equipment to hold up its end of the deal without the need for constant maintenance. With the roller encoder, Jornov can run the machine about 10% faster than before. Between the accelerated speed and no need for constant maintenance, he estimates the Versa system saves Blend-Pro an hour a day thanks to constant production run time.
A week after Blend-Pro installed their first cutter/puller system, they ordered a second unit just like it for their other sealer extrusion line.
Pulling Processes Forward
Whether pulling material for bandsaws, medical grade plastics, or foundation sealers, Versa has a puller that can speed up production lines for a wide variety of applications. Caterpillar Pullers provide consistent and even pressure while Pinch Roll Pullers provide minimum pulling force required to get the job done. Puller systems can solve any number of post-extrusion or post-processing issues, and increase production speed while they're at it. Non-Motorized Assemblies are built to outlast and outperform other equipment, and allow the use of motors, drives, gearing and controls for the specific application without having to buy unwanted or un-needed components. Motorized Pullers include all the components needed for instant productivity, making them easy to purchase and to put into use. Although they are hard at work in different industries and operate different Versa Pullers, for Meyer Enterprises, Simonds Industries, and Blend-Pro, Versa Machinery is pulling production forward.