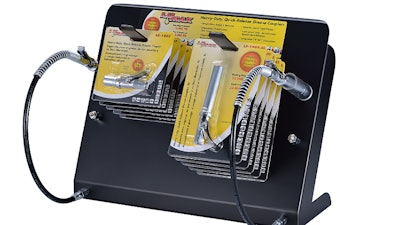 Lumax (Fort Mill, SC) has released the New Heavy-Duty Quick-Release Grease Coupler Metal Counter Display. The multi-year service life of each coupler offers an exclusive high-performance hydraulic seal. The ergonomic thumb lever design makes coupling and uncoupling totally effortless at high pressures. The working pressure of the grease couplers is 15,000 PSI and a burst pressure of 22,000 PSI, making it the highest-pressure rating in the world for a quick-release grease coupler. The Counter Display Kit includes:
Heavy-duty metal display.
2 grease hoses with spring-guard
1 coupler of each model Quick-Release Grease Coupler for demo.
2 display hooks, 20 of each coupler (LX-1403 & LX-1403-XL).
5 of each LX-1403 & LX-1403-XL for display, and 15 of each model for replenishment.
www.lumax.com; 704-940-6988