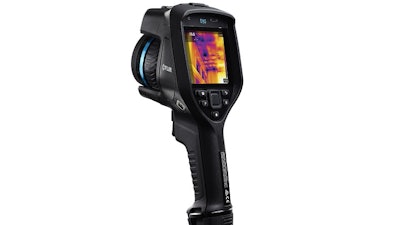 FLIR Systems, Inc. (Wilsonville, OR) has announced three new Exx-Series advanced thermal imaging cameras for electrical, mechanical and building applications: the FLIR E75, E85 and E95. The redesigned, Wi-Fi-enabled Exx-Series features:
Intelligent interchangeable lenses, eliminating the need for manual calibration.

Laser-assisted autofocus modes and area measurement functionality.

Improvements to FLIR's patented MSX imaging technology, which now utilizes a 5-megapixel visual camera for improved image clarity and readability.
A more vibrant 4-inch touchscreen that is 33 percent brighter and 30 percent larger than previous Exx models, yielding more vibrant and detailed thermal imagery.

Increased sensitivity and increased native resolution.
A simplified user interface, delivering faster, more intuitive operation.
Enhanced Wi-Fi, Bluetooth and Meterlink connectivity, meaning archiving and report generation has never been easier.
www.flir.com/instruments/e75-e85-e95/; 800-GO-INFRA