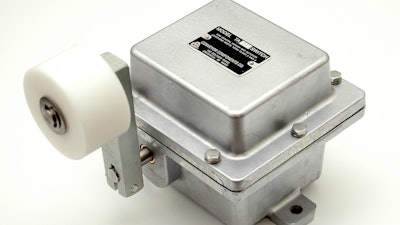 Conveyor Components
Conveyor Components (Croswell, MI) has added a TPS (tripper position switch) to its line of belt alignment controls. The model TA-2 TPS is designed to indicate when the tripper of a shuttle conveyor is located on a multiple discharge point. Additional features include:
A heavy-duty style control with two SP/DT micro switches rated for 20 amps at 120 VAC, 240 VAC, or 480 VAC.
Switch actuation that is bi-directional.
Roller orientation is field adjustable with a simple hex bolt adjustment.
A white acetyl roller that is bi-directional and measures 3" in diameter by 1-5/8" wide — can withstand pressure, wear, and chemical attack.
A cast aluminum enclosure rated for NEMA 4 weatherproof, or NEMA 7/9 explosion proof.
An epoxy coating option.
For more information, call 800-233-3233; or visit www.conveyorcomponents.com.