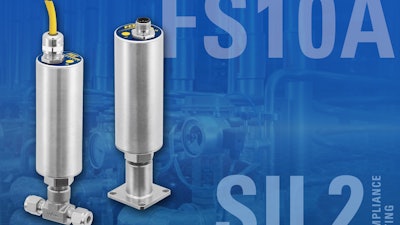 Fluid Components International (FCI) (San Marcos, CA)'s Model FS10A is a sophisticated universal flow switch and monitor specifically designed for gas and liquid process analyzer sampling systems. The FS10A is a fast responding, highly repeatable sensor, which installs easily into a standard tube tee fitting or the SP76 (NeSSI) modular manifold.
Close control of many toxic and/or combustible gases and liquids utilized in a wide range of industries require continuous monitoring to ensure their safe, effective use to protect employees and assure end-product quality. Validation of uninterrupted flow to the analyzer is essential to alert system operators should the analyzer fail to measure or operate for a range of reasons, including blocked sample tubes, stuck valves or any other number of potential issues.
The FS10A Analyzer Flow/Switch Monitor utilizes proven thermal dispersion flow measurement technology with FCI's proprietary equal mass sensing to achieve outstanding sensitivity and repeatability. The instrument's wetted parts are superior corrosion-resistant 316L stainless steel with Hastelloy C-22 sensor tips. The sensor element has no moving parts to foul, clog or maintain, which ensures continuous reliability and virtually no maintenance. There are no cavities, orifices or dead-legs to trap or contaminate samples, which preserves sample integrity and faster sampling times.
www.fluidcomponents.com; 800-854-1993