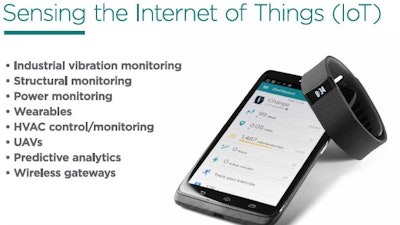 MEMSIC
Mouser Electronics (Mansfield, TX) has announced a global distribution agreement with MEMSIC. Through the new agreement, Mouser will distribute MEMSIC micro-electromechanical systems (MEMS) sensors to customers worldwide. The MEMSIC product line at Mouser Electronics features:
The MEMSIC MMC5883MA Anisotropic Magneto Resistive (AMR)-based three-axis magnetic sensor, which provides 16-bit operation over a wide ± 8 Gauss operating range, and features linearity of ±0.2 percent full scale range (FSR), hysteresis of 0.2 percent FSR, and repeatability of 0.2 percent FSR on each of its three axes.
The MXC6255XC/U DTOS accelerometers, which are two-axis motion and orientation sensors based on MEMS thermal technology. The DTOS accelerometers allow designers to integrate user interfaces, such as programmable "shake to change" menu navigation, TV/music channel selection, and vertical/horizontal picture orientation.
The MFC2000 bi-directional digital MEMS gas flow sensors which are silicon-based devices that offer power consumption characteristics, such as sleep-mode currents as low as 1 µA and typical operating currents of 3 mA. Other benefits include low 2.7 V–5.5 V supply operation, and the ability to provide the necessary performance over a 100:1 flow range.
For more information, visit http://www.mouser.com/memsic/.