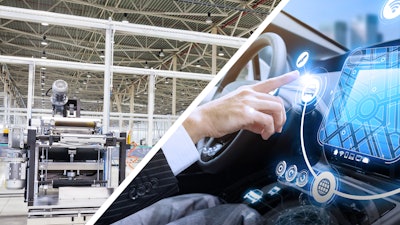 Mouser Electronics has added a new solutions page from Analog Devices and Coilcraft that was developed to help designers address electromagnetic interference (EMI) concerns in automotive and industrial applications.
The new page hosts a variety of reference material and paired electronic components to aid designers in achieving lower EMI using a combination of Analog Devices' Silent Switcher 2 LT8640S/LT8643S/LT8650S synchronous step-down regulators and Coilcraft's power inductors.
Featuring Analog Devices' second-generation Silent Switcher architecture designed to minimize EMI emissions, Analog Devices' Silent Switcher 2 LT8640S, LT8643S, and LT8650S synchronous step-down regulators deliver high efficiency at high switching frequencies using a combination of bypass capacitors, a ground plane, copper pillars, and other components to optimize all the fast current loops.
The 42 V, 6 A regulators offer a 2.5 µA quiescent current and up to 96 percent efficiency at 1 MHz, and provide fast, clean, and low-overshoot switching edges that enable high-efficiency operation and step-down ratios even at high switching frequencies.
When paired with the LT8640S, LT8643S, LT8650S regulators, Coilcraft's power inductors can further reduce EMI in harsh and noisy environments. The Coilcraft XFL5030 series shielded power inductor features an exceptionally low DC resistance of only 2.15 milliohms. With excellent current handling up to 11.5 A, soft saturation, and a composite construction to minimize audible noise, the XFL5030 devices are ideal for high-frequency applications.
The Coilcraft XEL6030 series high-current shielded power inductors offer exceptionally low DC resistance and ultra-low AC losses for high switching frequencies of 2 to 5 MHz. They provide excellent current handling with soft saturation characteristics to withstand high current spikes and deliver an inductance range from 0.15 µH – 3.3 µH. Both the XFL5030 and the XEL6030 series of devices meet the AEC-Q200 Grade 1 automotive specification and are RoHS-compliant and halogen-free.
For a detailed look at the technology behind the EMI-limiting solutions, Mouser offers a white paper, "How to Dial Down the Noise: Limiting EMI." In the white paper, Mouser's Senior Technical Content Specialist, Paul Golata, illustrates how the Analog Devices and Coilcraft products can work together to deliver a low-EMI solution needed for today's demanding applications.