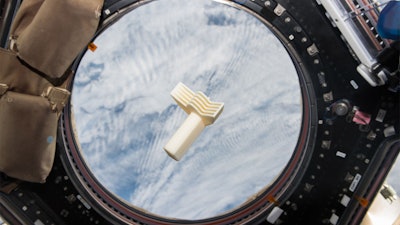 Business Wire
The winning design in the International Space Station (I.S.S.) Design Challenge has been 3D-printed in space.
The design is a satellite-launching device that is now in orbit and may one day be used by astronauts for a variety of missions.
Cupertino, CA-based engineer Andy Filo designed the device, which allows astronauts to launch femtosatellites (tiny satellites about the size of a postage stamp and weighing less than 100 grams) in zero gravity.
Scientists use femtosatellites in different missions and applications, including monitoring disasters, studying Earth's environment, and even flying in formation to create a giant antenna for deep space analysis.
Filo's femtosatellite project was chosen from 242 entries and digitally transmitted to the I.S.S., where it was 3D-printed on April 3 by Made In Space's Additive Manufacturing Facility (AMF) — the first commercially available off-world manufacturing service and the only 3D printer adapted for use in the vacuum of space.
Made In Space and Filo made some last-minute modifications after I.S.S. received the original design, rounding the handle to increase usability and comfort and further editing the design to increase printing speed.
Filo and his creation were showcased in the above video, which features celebrity engineer Grant Imahara as the two visit the Made In Space 3D Printing Lab at NASA's Ames Research Center.
Mouser will soon release the final video in the I.S.S. Design Challenge series on the company's YouTube channel as well as on the Empowering Innovation Together program page.