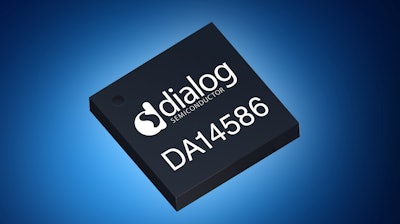 Mouser Electronics
Mouser Electronics (Mansfield, TX) is now stocking the SmartBond DA14586 Bluetooth 5 system-on-chip (SoC) from Dialog Semiconductor. The new SoC is Dialog's first standalone device that is qualified to support the latest Bluetooth 5 specification. Features include:
Low power

consumption.

High functionality for advanced use cases.

The ability to add Bluetooth low energy

Mesh

to products like remote controls, proximity tags,

Internet of Things

(IoT) beacons, connected

medical

devices, and smart home nodes.

An advanced power management setup with both buck and boost converters, which enable support of most primary cell battery types.

2 MBytes of flash memory.

96 kBytes of RAM for user applications.

An integrated

microphone

interface, which allows designers to add voice control to any cloud-connected product that has a microphone and speaker.

Compliance with Bluetooth 5.0, ETSI EN 300 328 and EN 300 440 Class 2 (Europe), FCC CFR47 Part 15 (US) and ARIB STD-T66 (Japan).

The

DA14585 Development Kit Pro

and SmartSnippets software, which help engineers optimize software for power consumption.
For more information, visit http://www.mouser.com/new/dialog-semiconductor/dialog-smartbond-da14586-soc/.