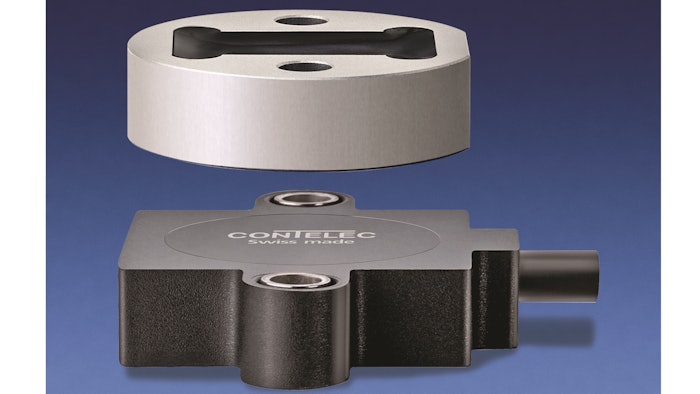 Novotechnik
Novotechnik U.S. (Southborough, MA) has introduced the Vert-X 31E Series of programmable rotary sensors with an expanded operating gap and a new safety function. The sensors are touchless magnetic angle sensors with a permanent magnet that can be secured to an application's rotating shaft, so that there is no direct mechanical linkage between the shaft and the measuring system, and therefore no wear. Features include:
The ability to work through air or non-magnetic materials with a gap between magnet and sensor.
A max gap of 0.5" between sensor and magnet — gap can be extended to 0.74" if application is not mission critical or safety related. 
A 31-mm profile.
A 0° to 360° measurement range.
Resolution to 14-bit.
Repeatability of 0.1° or better.
Max hysteresis of 0.1°.
Eight output options: 0.1 to 10 V, 0.5 to 4.5 V, 4 to 20 mA, 10 to 90% of power supply, SSI, PWM, Incremental and SPI.
Programmable output characteristics include custom characteristic curve, angle range, zero point, and curves as well as gradient-direction versus direction of rotation.
5 and 24 V supply models.
An ingress protection rating of IP 68.
An operating range from -40° to +85°C.
The ability to withstand shock and vibration to 200 g and 50 g respectively. 
For more information, visit www.novotechnik.com/vx31E; or call 508-485-2244.