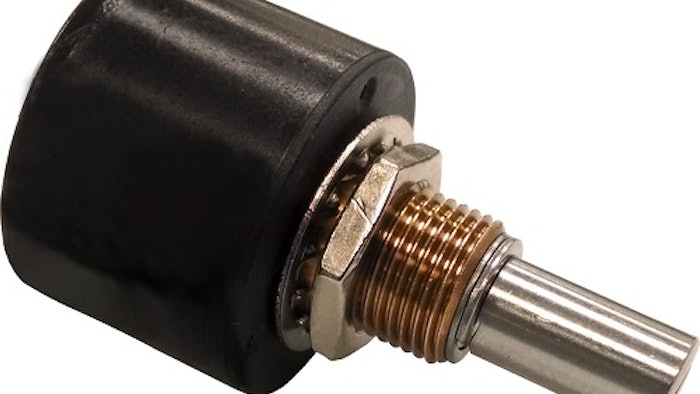 TT Electronics
TT Electronics (Weybridge, UK) today introduced its MagnePot 8150 Series family of multi-turn non-contacting rotary position sensors. The 8150 Series is designed to operate reliably over a minimum of 10 million shaft rotations with no signal output degradation. Ideally suited to serve high-reliability markets including industrial, medical and aviation/aerospace, additional features include:
A combination of the latest in Hall Effect non-contacting sensing technology and internal bearing design, which results in performance reliability.

Clean, ratiometric absolute position outputs across multiple turns without sliding contact noise.
Availability in three, five, or ten turns, each powered via a 5 VDC supply voltage.
A ratiometric output range from 4% to 96% of supply with a 12 mA max current rating.
Standard ±0.50% independent linearity, with optional improvement to ±0.25%.
A standard operating temperature range from -40°C to +125°C.
Optional alternative output voltages, servo mounts, non-linear outputs, IP50 or IP66 ingress protection, and severe environment versions.
Severe service models with sealed shafts and rear lids.
Applicability in industrial joystick controls, factory and laboratory automation, advanced manufacturing, robotic positioning, motion control feedback, medical diagnostic equipment positioning, aircraft flight and panel controls, and vision system positioning feedback.
For more information, visit: www.bitechnologies.com/products/RotarySensorsNonContacting.htm.