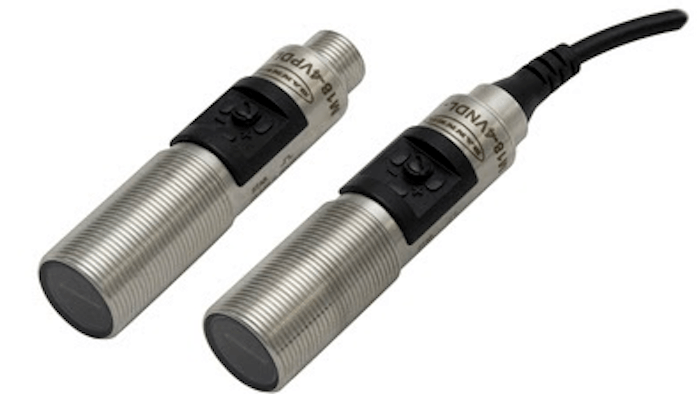 Banner Engineering (Minneapolis, MN) introduces its new M18-4 self-contained photoelectric sensors. Featuring robust IP69K-rated 316 stainless steel housing, the heavy-duty 18 mm metal barrel sensor is ideal for harsh industrial environments where abrasive chemicals and ingress fluid are present. Built with Advanced ASIC (Application Specific Integrated Circuit) technology, the dc-operated M18-4 sensors are also resistant to fluorescent light and offer a high level of crosstalk avoidance. Features include:

• A powerful and bright visible red emitter beam, allowing for easy alignment and set-up.
• A highly visible output, and dual-function power and stability indicators.
• Availability in opposed, polarized and non-polarized retroreflective, diffuse and fixed-field sensing modes. For increased flexibility, diffuse models offer a robust 250 degree sensitivity potentiometer.
• A wide operating temperature range of -40 to +70 degrees Celsius, which ensures optimal performance for diverse applications.

www.bannerengineering.com; 888-373-6767