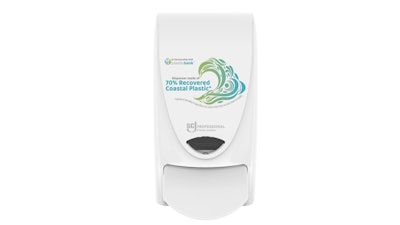 Hygiene and sustainability can go hand-in-hand, that's why SC Johnson Professional (Charlotte, NC) developed the Proline WAVE soap dispenser, made with 70% recovered coastal plastic. Recovered coastal plastic is post-consumer recycled plastic collected on land within 31 miles/50 km of an ocean so that it does not reach oceans or landfills, in countries with high volumes of uncollected plastic waste. Each dispenser is made using an equivalent of sixteen 16.9 fl. oz. plastic water bottles. Additionally:
The dispenser holds a 1-liter closed, sealed soap cartridge and is easy to clean, lockable for security and has a non-drip, non-clog pump.

The Proline WAVE 1-liter soap dispenser has many benefits to make it a great choice for facilities that care about sustainability and want a reliable solution for their busy washrooms.

Other great benefits include: no batteries required, and it uses hygienically sealed cartridges.
Pair the Proline WAVE dispenser with Refresh FOAM soap, available in fragranced formats: Azure, Rose, Antibac as well as our dye-free & fragrance-free option – Clear.