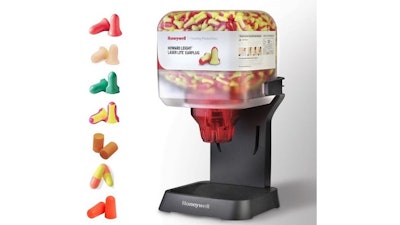 Protecting workers from harmful noise on the job is an important component to worker safety programs. Honeywell (Morristown, NJ) has released a new earplug dispenser for commercial-industrial use that makes it easier than ever for companies to achieve better hearing protection for their employees. The Honeywell Howard Leight HL400 dispenser offers more choices to serve a wider range of situational needs. For example:
It can accommodate the full line of Howard Leight disposable earplugs.
It has more built-in, flexible mounting options.
It refills easier.
It dispenses in multiple ways.
The dispenser can be refilled with all Honeywell Howard Leight disposable foam earplugs including MAX, MAXLite, Laser Lite, FirmFit, X-TREME and MultiMax earplugs. Refilling the canister is simple and quick. Proceed with using the prefilled canisters or use the zip top bags to refill the existing canister. Both options make it easy to accommodate a large capacity of user needs.
www.honeywellsafety.com; 800-873-5242