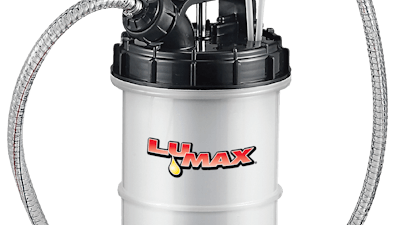 Lumax
Lumax's (Fort Mill, SC) new Fluid Extractors are transfer pumps that can move fluids through dipstick tubes and filler ports. The LX-1312 is a manual fluid extractor that features:
The vacuum created by manual pump operation offers mobility without the need for electricity or compressed air.
Suitability for brake fluid, engine oil, gear oil, transmission fluid, water and more.
Ideal for extracting fluids, changing engine oils and lubricants in ATV's, boats, farm equipment, gear boxes, motor bikes, snowmobiles, watercrafts, and vehicles.
A capacity of 2.6 gallons.
A height of 28 inches, and width of 8.75 inches.
A weight of 6 lb.
A 60" PVC steel braided suction hose.
2 dipstick tubes.
Tube adapters.
A durable oil and chemical resistant polypropylene construction.
Automatic overflow prevention.
A quick drain pour spout.
A decompression/exhaust valve for releasing negative pressure.
For more information visit: www.lumax.com.