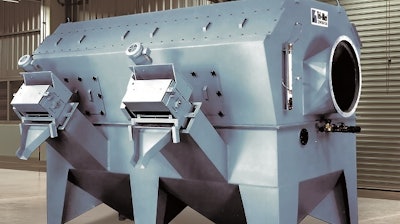 Tri-Mer Corporation (Owosso, MI) has expanded its capabilities to include a wet dust collector with a capacity of 52,500 cfm. This addition to the Tri-Mer equipment portfolio will be marketed under the Whirl/Wet trade name along with the company's other systems for the efficient management of industrial particulate. Specifically:
The large capacity Whirl/Wet collects soluble and non-soluble particulate 3 microns and larger, at efficiencies of 97-99% and higher.

It is well-suited to volatile dusts from flour, grains and sugars, pharmaceuticals and exotic metals.

Whirl/Wet is distinctive in that energy generated inside the unit prevents the system from clogging.

As a result, the agglomeration and sticky residues that plug baghouse devices are not an issue. The system requires only minimal maintenance.
The large capacity Whirl Wet is available in polypropylene, polyethylene, engineered plastics and stainless steel, and is manufactured in manual and automated formats. These systems are well suited to heavy dust loading applications and locations where water utility costs are rising; after original charge, water replenishment is only needed to compensate for evaporation and drag-out. The automated model provides continuous operation, even during drag-out.
www.tri-mer.com, 989-723-7838