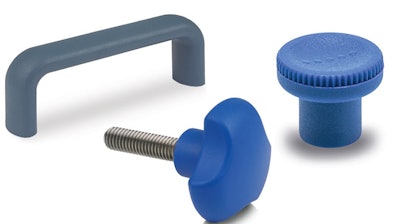 High cleanability, corrosion resistance, prevention from contaminants and production efficiency are increasingly requested features in markets such as food, pharmaceutical and chemical. To meet the strict product safety requirements at all stages of the production process, Elesa (Twinsburg, OH) now offers two new lines of standard components – Visually Detectable (VD) and Metal Detectable (MD) products – including handles, knobs and hinges. Details include:
Visually Detectable: This line includes standard components with AISI 303 and 304 stainless steel inserts. They are manufactured from Elesa technopolymer thermoplastic material in "Signal blue" RAL 5005 and are suitable for food contact (FDA CFR.21 and EU 10/2011). Thanks to the specificity and uniqueness of the color, naturally absent in the environments in which these components are used, VD products are easily detectable and recognizable to the human eye.

Metal Detectable: The MD line is made of Elesa technopolymer in "Green-blue" RAL 5001 – raw material suitable for contact with food (FDA CFR.21 and EU 10/2011) – and includes standard components also made with AISI 303 and 304 stainless steel inserts.A special additive contained in the plastic material allows the detection of cubic particles of 5 mm per side by means of a metal detector.
www.elesa.com; 800-374-7686