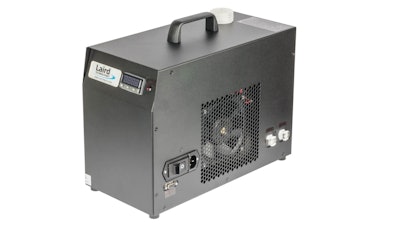 Laird
Laird (Earth City, MO) has designed a benchtop re-circulating chiller for laser applications that require precise and continuous temperature control. The self-contained MRC Series thermoelectric re-circulating chiller offers dependable, compact performance by controlling the temperature of a coolant in a liquid circuit. In applications with a cooling capacity requirement below 400 Watts, the compact MRC Series offers a size and weight advantage over conventional compressor-based systems. Additional features include:
A cooling capacity up to 290 Watts.
The ability to cool the coolant to below the ambient temperature.
Suitable for a range of laser systems, including diode-pumped solid state (DPSS) laser systems used for meticulous cutting in high-tech manufacturing processes and semiconductor wafer cutting.
A high mean time between failure.
Heat pumping action from a custom designed thermoelectric module that dissipates heat to the outside environment.
A digital temperature controller.
An aesthetic sheet metal casing.
The ability to control the temperature of a liquid circuit from -12°C to 40°C.
115/230 VAC operation.

UL/IEC rated.
For more information, visit www.lairdtech.com; or call 636-898-6000.